Please visit ChinaTravelGide to get more information about Guiyang
Guiyang, capital of Guizhou Province, is located in the southwest of China, onthe eastern side of the Yunnan-Guizhou Plateau. It is a transfer point between most China cities, and the various ethnic minorities villages in the province. Itis said that in ancient times, the city was surrounded by dense bamboo groves,and was famous for producing a musical instrument known as Zhu. Hence the city is also called Zhu for short.
Surrounded by mountains and forests, the city has pretty well environment. Asin other Spring Cities; like Kunming, Guiyang is a popular summer resort city in China.The climate is often mild and moist,neither extremely hot nor cold.Spring, summer, and autumn are all wonderful seasons for sightseeing. The city is renowned for its colorful culture,represented by various ethnic groups and its special landform-Karst.Guiyang is home to more than 30 minority ethnic groups including, Miao, Buyi, Dong and Hui. Consequently, it abounds with unique folk culture and traditions that give rise to colorful ethnic minority activities.With many Karst caves,the city is even regarded as an ecological model on Karst Landform.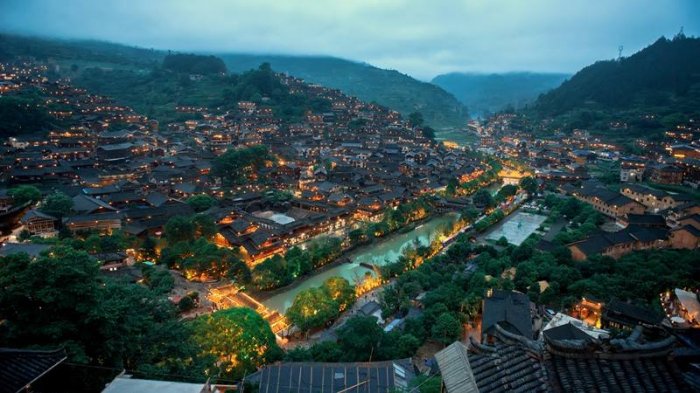 Guiyang is also the preferred leisure resort for domestic tourism. There are many characteristic scenic spots in the surrounding area. Huangguoshu is rated as "the most beautiful place in China" by China National Geographic. It has always survived as a scenic spot in Guizhou in the memory of the Chinese people. , World Intangible Cultural Heritage Qianhu Miao Village, feel the drunken beauty that has been passed down for a thousand years, and visit the Tongren Fanjing Mountain named "Buddhist Holy Land" and "Fantian Pure Land"